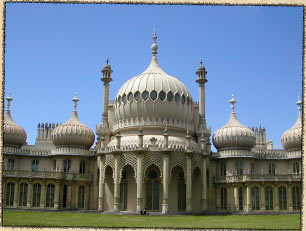 The Royal Pavilion, Brighton
The palace was long and surrounded by gardens but not far from the main road. It was a creamy stone colour with high French windows along the side topped with patterned stone fretwork.
An Indian castle dropped into an English town. What struck Brodie most were the domes. One huge central dome was ringed with petal-shaped windows like a belt around its middle, and to either side were smaller domes ornately decorated.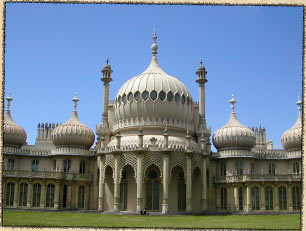 'Not bad for a seaside retreat?' Smithies smiled, hurrying them towards the main door
'Not bad for a seaside retreat?' Smithies smiled, hurrying them towards the main door. 'Although you can see why many people thought the place was vulgar and over the top.'
Brodie thought it was simply beautiful.
(Extract from Secret Breakers Book One 'The Power of Three.') Show the full extract
The Royal Pavilion is literally a palace by the sea. It is an incredible building. Growing up in Brighton and walking past the Pavilion every week when I went to the library each Saturday morning, I knew if I ever wrote a book I would have to make use of the Royal Pavilion! Sadly, when I was growing up in the 1970s, the Royal Pavilion was badly damaged by an arson attack and so was covered over in blue tarpaulin and scaffolding for many years. It was as if the beautiful building was a secret from all who passed by.
If you ever have a chance to visit, then do! I promise you'll love it! All the details I include in the book about the Pavilion are as accurate as I can make them. The tunnel between the palace and the Dome really exists and the unfinished room is also there in the huge 'Saloon Bottle' of the building. I've been on a 'behind the scenes tour' and I've been up the rickety stairs and seen the circle of doors. The trap door in the floor and the pulley is all there too! Even the details about how the designers had never been to Asia are true. I'm not sure though, how many dragons there are in the Pavilion Music Room. No one is! Every guide I asked…and I've asked a lot…gave me a different number. But the number I use in the novel is the number I was quoted the most often.
Here is a link to take you to the Royal Pavilion website so you can see how amazing the building is for yourself. You can actually see parts of the 'Saloon Bottle' and the 'Secret Tunnel' which leads to the Dome and through which Brodie and Freidman escape!