Secrets to Break: Book Two
Orphan of the Flames sees new codes to crack!
'The note was a puzzle and we called it the Firebird Code.…
…And when we'd solved it, it led us to the Royal Pavilion in Brighton and to a silver box. It was a music box. And it played an Elgar tune. So we think the composer Elgar might be important to this whole puzzle. That he might be linked to MS 408.'
'Brilliant,' said Hunter.
'So,' said Friedman. 'Elgar's our solution and our lead. The end of the Firebird Code and the beginning to a new search. The music box Van der Essen wanted us to find must be important. Elgar must be important.'
(Extract from Secret Breakers 'Orphan of the Flames') Show the full extract
When I was putting together the plot of the 'Secret Breakers' series I needed one huge unbroken code around which to base my story. That code was the code of MS 408. As I wrote each book though I wanted to explore other unbroken codes and so each book has a different code focus. You find yourself now in the part of the site where I will tell you all about the codes I based Book Two 'Orphan of the Flames' on. If you haven't read Book Two yet you might want to come back to this page later as there are bound to be spoilers. Don't forget then, you have been warned!
The Codes Of Elgar
Elgar was a composer and you can find out all about him on the Who's Who in Book Two page. But Elgar didn't just love music. He loved codes. Let's find out more about the ones I used in the plot of 'Orphan of the Flames'.
"If you haven't read Book Two yet you might want to come back to this page later as there are bound to be spoilers"
A Musical Muddle
Elgar used to mix up letters and music notes. He wrote messages to people and swapped words for music notes. You should try this! Do you think you could find notes to 'represent' how you feel or how someone is behaving? Have a look at how Elgar did it and see if you could have a go.
Some people say that the first set of notes can be played as Morse Code to equal S and S…so maybe the first series of notes stands for Sugar and Spice? The second set of notes was apparently often used by Elgar to stand for himself…so this note sent to his friend Dorabella could be saying she is as nice as sugar and spice…and he is not ideal!
It could be that the notes just stand for musical feelings….as codes can be left in all sorts of ways. Why not have an experiment with this and see how you get on!
If you are good at this then maybe your 'secret breaking' skill is just like Sheldon Wentworth's. He's new to Team Veritas and you can read all about him too on the Who's Who in Book Two page
The Enigma Variations
Elgar wanted to hide things in codes and in music and when he wrote one his most famous pieces he was trying to hide his friends in the sound of the music. Elgar wrote the piece for an orchestra to play. There is a main musical theme and apparently a 'dark saying' that is hidden in the music. Then there are fourteen variations of the main musical theme. Elgar explains that each variation is like a musical portrait of each friend. Elgar lists the people he has hidden in the music…except for one! Variation XIII is just listed with the code of three stars. What a perfect starting place for me when I was trying to put together 'Secret Breakers' Book Two!
Brodie made notes about the people hidden in the Enigma Variations. You can see her notes here!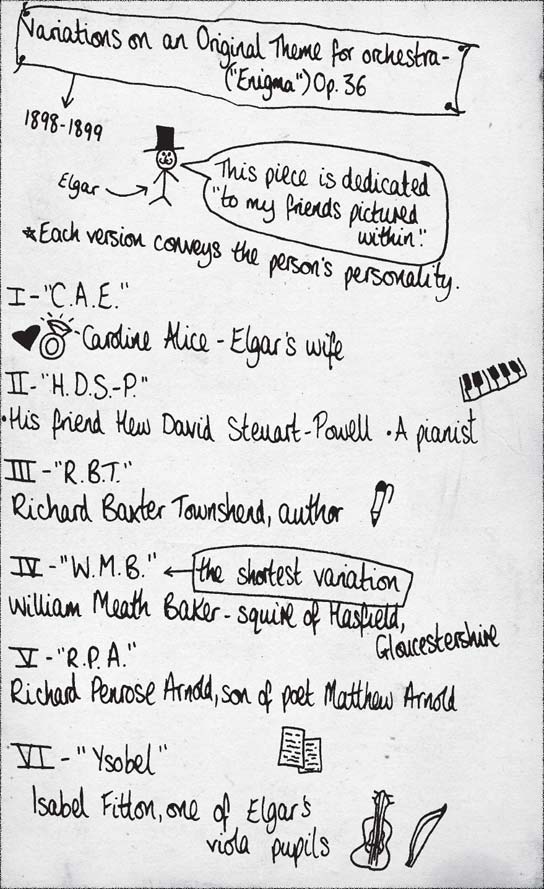 There is lot of debate about who *** could be. In 'Orphan of the Flames' I follow up one of the theories and explore some of the ones I rejected. Once I had decided who I thought *** was I could see lots of possibilities about what I could do with that idea.
Variation XIII is beautiful…but it's not my favourite. That has to be Variation IX. This was written to represent Elgar's great friend August Jaeger. You can find out all about him on the 'Who's Who in Book Two' page.
Jaeger's Variation is called Nimrod. It has this name because Nimrod is a name used in the Bible for a mighty hunter and the German word for 'hunter' is Jaeger. Secret Breakers who are following all the clues will realize that the name Hunter is quite important in my story! Remember it is the name of one of our main characters who loves numbers! And the number link became very important in 'Orphan of the Flames' too when I sent my characters to hide in Station IX. What is Nimrod's Variation number… the number IX!
The Nimrod Variation is really beautiful and I am very excited to share here an amazing video put together with a performance Variation IX. I hope you enjoy!
<
The Dorabella Cipher
Elgar loved codes so much there's in fact another code that's important to the plot of 'Orphan of the Flames'. It's called the Dorabella Cipher and you can see Brodie's copy of the code here.
The Dorabella Cipher was written by Elgar to his friend Dorabella. (You'll remember that she had Variation X written for her! What about that for a link to Station X!) Dorabella never worked out what the weird message said. But of course Team Veritas manage. They find there is a lot of disinformation in the message and they only need to read certain sections, but you can see from Brodie's logbook page that each weird shape represents a letter.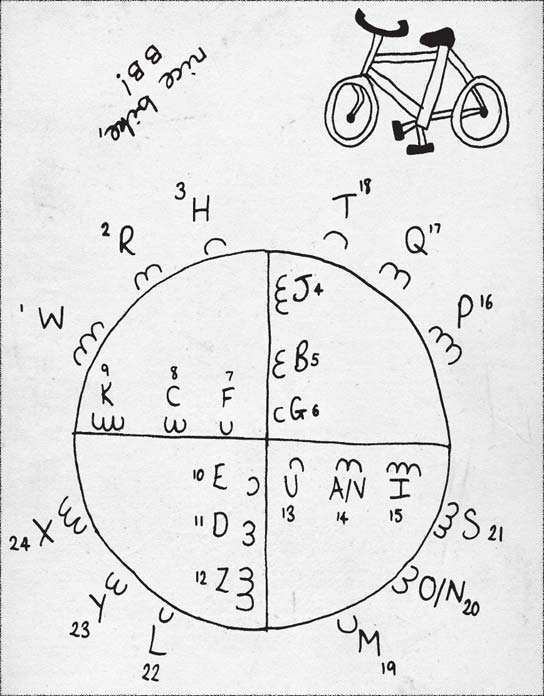 A 'Secret Breakers' Challenge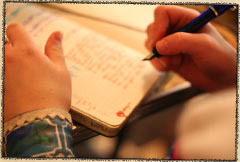 I ended the page of information about MS 408 with some interesting facts…but I'm going to end this page with a challenge….! I hope you're ready for it!
I wonder if you can write a message using the shape of the Dorabella Cipher? If we got good at this it could become a Secret Breaker language! So, using Brodie's logbook page to help you, have a go at writing a simple message. Remember to pay particular attention to the angle of the shapes…if they lean too far one way or another they mean different things!
Once you have got good at writing in 'Dorabellaese' then write a message for me to read. (You should also write out the translation for me to check you haven't just made squiggles on the page!) Send your message and your translation to H.L. Dennis c/o Hodder Children's Books, 338 Euston Road, London NW1 3BH. I'd love to see how you get on…and maybe, if enough of us learn to write in Dorabellaese, it will become an accepted form of secret writing! Have fun!
If you want to find out more about Elgar then why not click on this link to his Birthplace Museum website. It is the museum Team Veritas go to during their adventure in 'Orphan of the Flames.'
When you've learnt all you can about Elgar and his codes, click the link below to take you to explore the next secret in the series!